Closet full of clothes but nothing to wear or no time to procure the perfect wardrobe? Erin Busbee to the rescue!
In 2009, Erin founded her own fashion consulting company called BusbeeStyle.com, specializing in fashion styling, personal shopping, and closet editing for "real" women.
Erin has appeared as a style expert on Good Morning America, Tyra Banks,  and Great Day SA, & is a regular fashion contributor for several online and print publications including, The Society Diaries, & San Antonio Magazine.
Prior to Busbee Style, Erin worked as an award-winning producer/reporter for WCBS-TV in New York, where she collaborated closely with top magazine editors from the most elite fashion publications like "Elle," "Glamour," and "Lucky" Magazines.
"It is my mission to not only remind you that it is okay to take time for you, but also to help you achieve amazing style that is simple, affordable, and works for your size, shape and lifestyle. Everyday women can have extraordinary style!"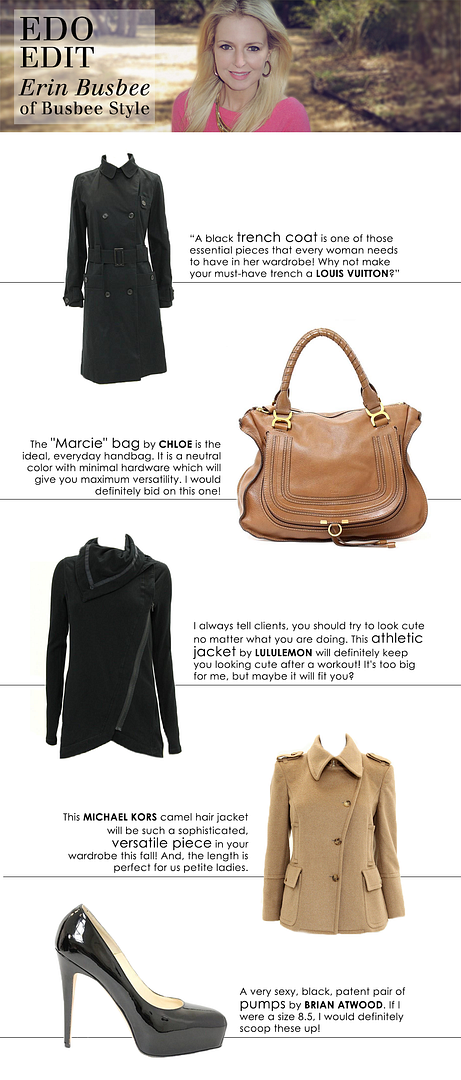 EDO:  Your job is all about making others look & feel their best – what inspired you to set forth on this path?
EB: After living and working in New York City for many years, my husband and I moved to Texas. Shortly after we moved, I told my husband that I no longer wanted to work in TV news. He immediately asked, "What would you do for free?" My answer came quickly, "make other women feel pretty." I started BusbeeStyle.com a few weeks later…to help other women look and feel their best.
EDO: As a mom of 2 young children, what advice can you give other moms about keeping their style fresh with minimal time?
EB: I always say, I look far from perfect, but I have perfected the art of easy, attainable style for busy, everyday women. For me, the keys are: organization, time management and making sure you have your wardrobe basics covered. I know basics are not fun to shop for, but you need to have these staples to wear with all of the trendy, stylish pieces you love to buy. I have a great checklist on my blog that you can print out and use. Once you have all of your foundation pieces, then you can easily add statement jewelry and accessories to add polish and style to your looks.
EDO: What designer inspires you the most & why?
EB: I am really most fascinated by the designers who are hugely successfully commercially like Michael Kors, & Tory Burch. These designers may not always be revered as the most creative, but they make products women really want to wear. I work with "real" women daily. My clients have curves and fit issues. I think it is so difficult to create art on the runway and translate that vision into clothes and accessories that women will actually wear.
By the way, I am really curious to see if women will start wearing sneakers with dresses or evening gowns ala Chanel. Stay tuned…
EDO: Describe your closet in 3 words.
EB: Full and organized!
Be sure to check out Erin's style videos on YouTube & find more tips on the BusbeeStyle Blog!
 Chloe Bark Brown Leather Large Marcie Shoulder Bag
Michael Kors Tan Camel Hair Epaulette Jacket
Brian Atwood Black Patent Leather Platform Stiletto Pumps
Lululemon Black Oversized Collar Zip Front Athletic Jacket