Is it Spring yet?! With temperatures barely over zero degrees here in Chicago, it's safe to say we are so over this weather. That's why we're hoping our furry friend Punxsutawney Phil predicts spring will come early this Sunday. In the mean time, we've prepared two looks that reflect either Groundhog Day outcome. We're hoping they'll help you get seasonally inspired.
The beauty forecast for Spring 2013 is bright and colorful with a chance of a nude lip. Shocking hues are working their way into everything from hair to eyeshadow, pushing the artificial color trend even further. Lips are left bare or with a slight flush of pink. Nail art continues to wow, with our favorite trend being a very doable striped mani. Here are some looks from the runway to get you inspired for next season.
RAINBOW HUED HAIR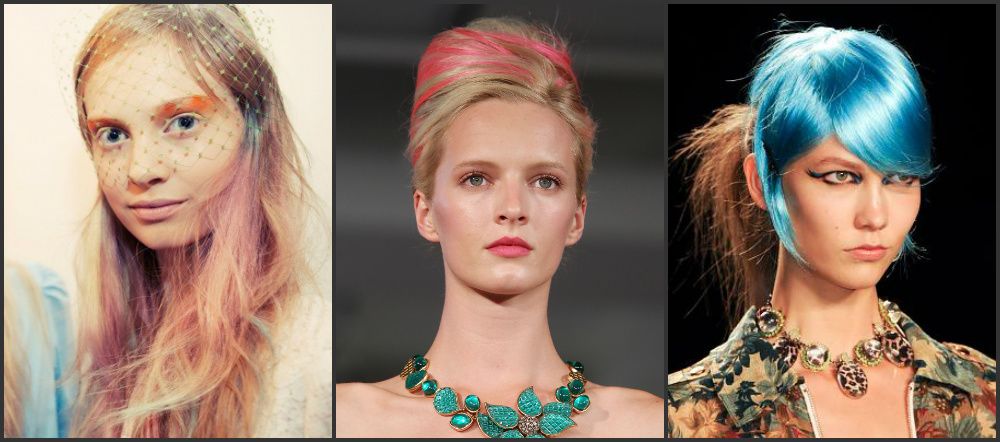 Is it just us being nerdy, or do these wild 'dos remind you of something you'd see in The Capital? Perhaps the popculture phenomenon of the The Hunger Games has worked its way into the fashion world after all. Put a chunk of color in your hair this spring a la Peter Som, Oscar de la Renta, and Anna Sui.
BRIGHT EYES
If eyes are the window to the soul, what does it mean when you line them with the loudest colors you can find? We think it says you're a risk taker who likes to make a statement. Aqua at Michael Kors, pink at Donna Karan, and tangerine at Ohne Titel stood out with sharp slashes of color on lids and rims.
BARE LIPS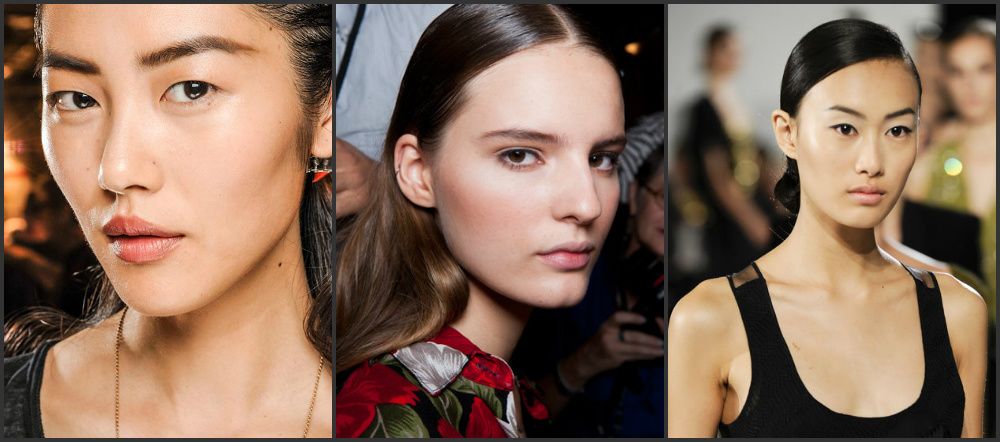 The age old rule still hold true this season: go big with the eyes, go neutral with the lips. We especially love the looks at Rag & Bone, Victoria Beckham, and Altuzarra,with just a hint of pink, as if the wearer just ate raspberries. Add pink or coral lip stain and a nude gloss to your shopping list.
THE STRIPED MANI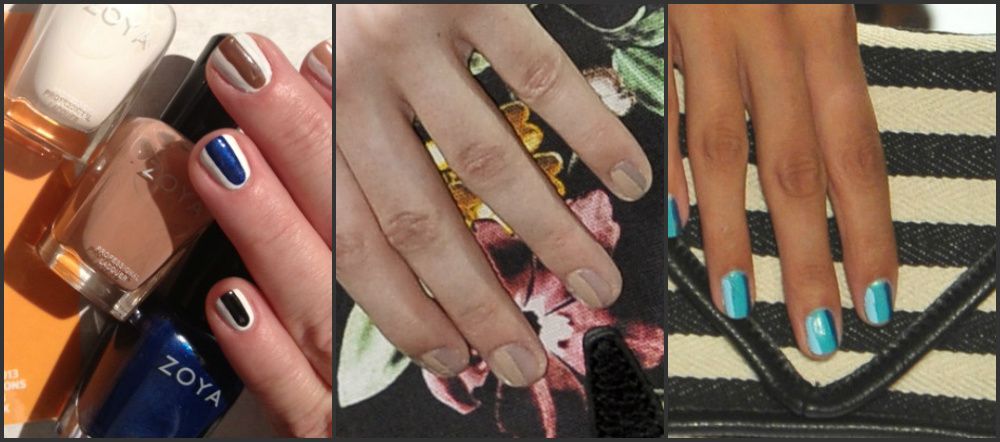 If you're looking for at-home nail art, this is your season. The striped mani is the most reasonable of the art we've seen. See below for a step by step how-to!
Use thin strips of clear tape as a guide for the inner stripe. Place one strip on each side of each nail to create an inner space on which to paint.
Fill in the non-taped space with polish, and let dry completely.
Once the polish is dry, remove the tape and fill in the two outer stripes, which are now bare, with a varying color. If you're feeling inept with the nail brush, you can tape over the already painted area to prevent botching the center stripe.
Different hues on each finger at Whitney Eve, neutral on neutral at 3.1 Phillip Lim, or ombre stripes of blue at Charlotte Ronson provide great starting points for your color choices.
Photo Credits: Hair (1, 2, 3) Eyes (1, 2, 3) Lips (1, 2, 3) Nails (1, 2, 3)