WHEN LISA FRAME AGREED TO BE OUR GUEST EDITOR
We were all like:
All of us at eDrop-Off are big, big fans of Lisa Frame and her hilarious Tumblr, #SOYEAHDUH. Whenever we're looking for a laugh around the office, we need only pull up her site. Read on to learn more about Lisa and see her picks from our current auction site.
My name is Lisa Frame and I've been living in Chicago for the past 10 years – 7 being in Wicker Park. My passions in life are coffee and people. I'm a digital and creative storyteller; whether I'm tweeting, video editing, or blogging for Mugshot-Monday and #SOYEAHDUH, I'm sharing stories. My day job is to help brands get rad online. How so? You guessed it: sharing their brand story.
I just love sharing happiness, inspiration and ideas with people – every fiber in me is made to connect with people. Wanna hold hands?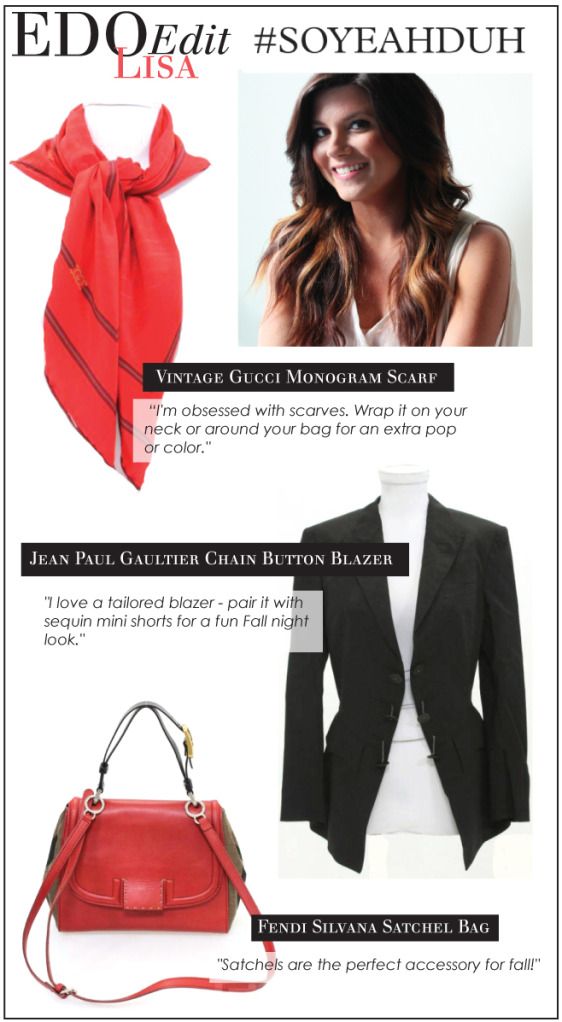 Shop Lisa's Picks:
Fendi Red Leather & Signature Striped Canvas Silvana Satchel Bag
Gucci Vintage Red Monogram Square Scarf
Jean Paul Gaultier Black Chain Button Blazer
EDO: When you're not working/tumbling you're…
LF: Drinking coffee, telling bad jokes and stalking creative people on Instagram.
EDO: What are your go-to pieces for Fall/Winter?
LF: Oversized textured sweaters, Frye Boots and quilted fabric. I have this amazing leather jacket with quilted arms and I'm just dying for it.
EDO: What's your favorite restaurant and the best dish there?
LF: My go-to restaurant is still Avec, and the chorizo bacon wraped dates are what dreams are made of. Their fish brandad is also a piece of heaven. Top it all off with a big glass of Pinot Noir, meaningful conversation and I'm in love.
EDO: Any trends you're dying to try?
LF: Yes, I'm really digging graphic sheath dresses. Especially by Tori Burch and McQueen. Pure fire.
EDO: If you had to bring a tourist to one place in Chicago that you think sums up our city, where would you bring them?
LF: Big Star, no doubt. Everything from the lighting, neighborhood to the record player playing old country jams… it's the perfect place to bring anyone and they'll feel right at home.