If you're a fan of nail art and happen to be a fashion enthusiast, then you're going to LOVE Taryn Multack from Miss Ladyfinger. Her runway-inspired nails are enough to make you book a ticket straight to fashion week! We love how she interprets each collection and creates a manicure out of it. The prints aren't exactly the same as they are in the collection but it's the perfect runway-inspired mani that any fashion lover would enjoy.
We are beyond excited to have Taryn as our latest EDO Edit contributor, so check out what she's loving right now from the eDrop-Off closet.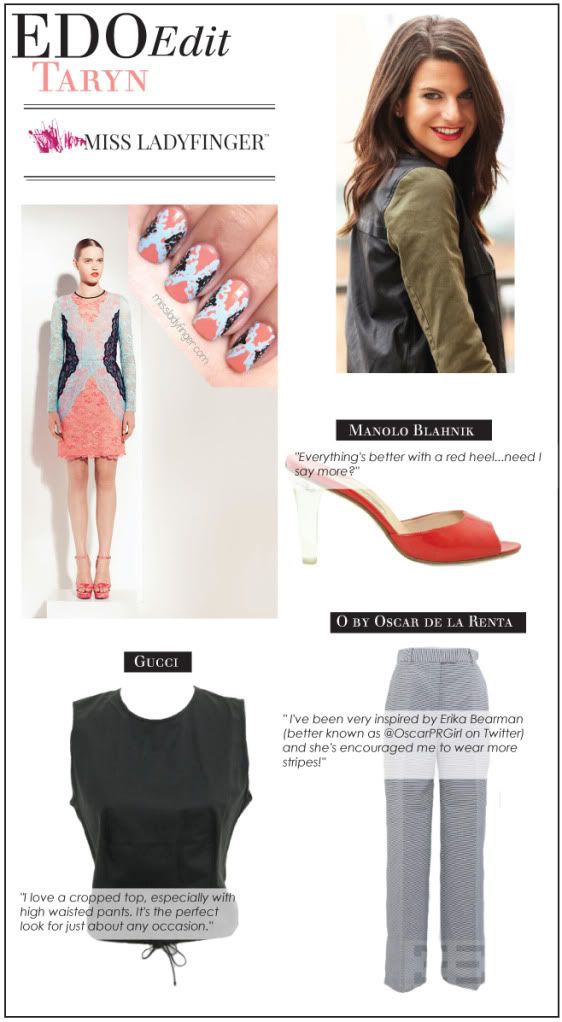 Manolo Blahnik Red Patent Leather & Clear Lucite Open Toe Slide Heels. Gucci Black Wool Sleeveless Drawstring Top. O Oscar by Oscar de la Renta Blue & White Striped Cotton Trouser Pants.
And here's even more from Taryn!
ED: Favorite nailpolish brand?
TM: I'm loving Ginger + Liz nail lacquers right now. It's a vegan-friendly nail polish brand with flirty, bright colors. I change my manicure every day, so I always opt for a health-conscious brand when I can. 
ED: Describe your closet in 3 words.
TM: Cutting-edge, jam-packed, and colorful.
ED: When you're not doing runway-inspired manicures you're…
TM: At the gym or dancing at a concert. 
ED: Beauty product you can't get enough of.
TM: A bold lipstick. Usually my go-to shade is Celebrity Red by Dior, but I've been incorporating oranges and pinks into my rotation for summer. Right now I'm a big fan of Makeup Forever's Rouge Artist Intense in Satin Bright Pink.  
ED: Designer that inspires you most?
TM: Prabal Gurung is one of my all-time favorite designers. His designs are high-fashion and avant garde, without being overdone.