Recent high school grad Ebony was our special visitor yesterday from Corri's hometown, Kansas City. She's preparing for a career in the fashion industry and wanted to get a glimpse into the day in a life of an EDO employee, so we put her to the test and she passed with flying colors!
Check out what Ebony is loving from the eDrop Off closet…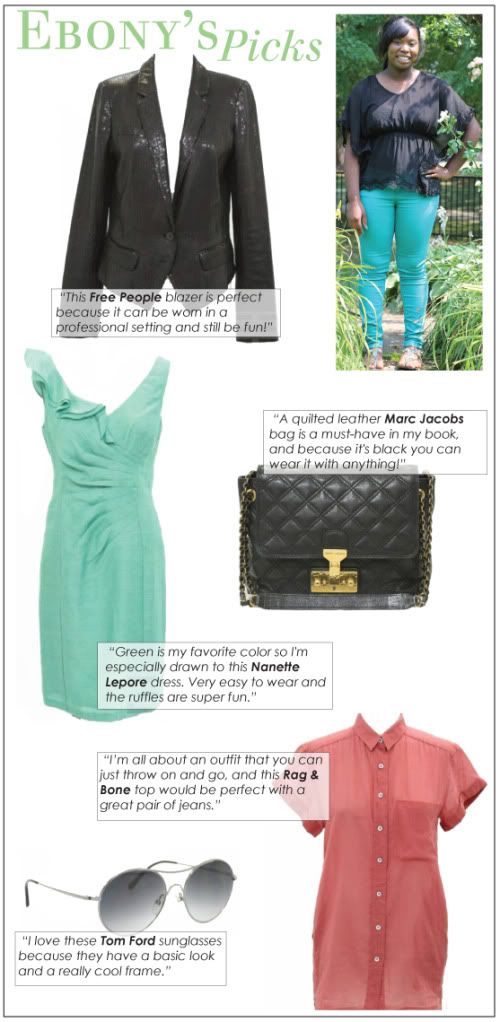 Click the links below to bid on Ebony's picks:
Tom Ford Silver Framed Round Lens "Claude" Sunglasses. Marc Jacobs Black Quilted Leather The Large Single Bag. Nanette Lepore Seafoam Green Ruffle Front Sleeveless Dress. Rag & Bone Salmon Pink Button Down Tunic Top. Free People Black Sequined Blazer.
Want even more from Ebony? Check out our interview with her below.
EDO: Now that you've graduated from high school, what are your plans?
EP:  I plan to attend K-state [Kansas State University] in the fall and major in fashion marketing.
EDO: We heard you would like to own a boutique one day. What type of store would you like to own and what designers would you like to carry?
EP: I would love to own a woman's clothing boutique one day. I'm not sure  just yet what designers I'd carry but I'd like the price range to be between $300 and $1,500.
EDO: What are your favorite current trends?
EP: My favorite trends right now are pattern mixing, color blocking and pleats.
EDO: What do you want to do while in Chicago this weekend?
EP: I want to go to the fireworks display and check out Forever21 because the Chicago location is way bigger than the one back home.
EDO: What was your favorite part about spending the day at eDrop-Off?
EP: I love learning how to tell if a designer bag is authentic or not and finding fabulous things in the huge stockroom.